· The Best Laid Plans...
A nice grey day outside... Hopefully I'll get some work done. I absolutely have so much work to do, both on
Friends
(issue 3 is coming out for the
Alternative Press Expo
in April, and I recently realized that I have to produce a page a week to meet that deadline!) and on life in general. I've always been an absolute diorganized slob, and in the last few years I've gotten this idea in my head that if I can just keep my room put together I'll be able to pull everything else in line, as well. So, a brief version of today's agenda reads something like this:
Breakfast
Laundry
Clean room
Finish pages 1, 2, & 4 of
Friends
(I work out of order)
Scan and make corrections to said pages
New posting on
Friend or Foe?
blog
Groceries
Make lunch for Danielle (one of my roommates, I owe her)
Write up hand-out for work meeting tonight (I'm the manager of a small paper store)
Dinner?
Sleep
So... here's what I have for my faithful blog reader(s): The first of
Two Stories
, my first self published comic. The covers were actually kind of cool, the first thing I ever printed with my
Gocco Printer
; I was inspired by the cover of an old William Saroyan book,
Dear Baby
.
I kept this particular copy for myself due to the amateurish but cute printing error on it: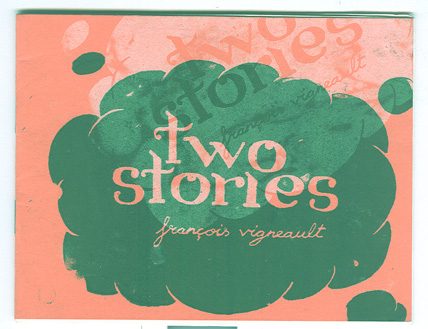 I finally managed to sell out (read: give away) all of my ambitious print run of about 100 of these sometime last year, and I don't intend to ever republish either in print form again, so I thought that they might make for somewhat entertaining fodder for this blog.

I'll put up the other comic, "Ghoststory", sometime soon.