· Print Project - Progress Report #1
I have been slowly chugging along on a large-scale linoblock print for a month or so now... as always with me, the process was in fits and starts, I'd do a lot of drawing one weekend, carve the linoleum another, but there would be huge gaps in between where the whole project got shelved.
So, I was delighted when I ran into Luke, the manager of
Giant Robot SF
, at
APE
, and he asked me if I had anything I'd like to include in the upcoming Printed Matter art show (Dec 5). I'm really honored to be included in such a terrific show (I haven't seen the line up yet, but the print show I worked a few years back was excellent, and I'm sure that Eric and Luke are doing a bang-up job curating this one), and it has lit a fire under my ass to get this project finished.
I'm going to be updating this blog with progress reports for the remainder of the month, as I finish my design, carve everything, and finally pull the prints. This is certainly the biggest and most chalenging printing project I've yet to embark on, so I'm sure that it will be a learning experience for me, and perhaps interesting for you, too!
Part 1 - Design
The impetus for this work comes from the realm of interior decorating, as it happens! About a year ago my girlfriend Hannah and I came across a construction site... they were refurbishing a house and there was a very nice window frame sitting outside. We asked the contractor if we could take it. "Sure thing", he replied, "but what about these, too?" Inside the gate there were dozens of frames in varying states... We picked out a few especially cool ones: a very large (35" x 48") picture window and a eight-pane door. The picture window I used as a frame for a beautiful but battered canvas I had found in an abandoned house in Oklahoma, but we weren't sure what to do with the door. We ended up putting panels of decorative paper in each of the panes for our holiday party last year, which was fine, but we both really felt that it wasn't engaging enough.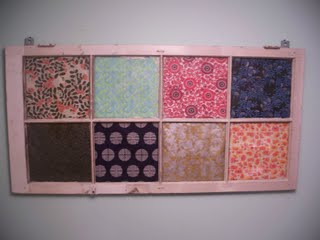 After ruminating on it for a bit, I realized the long format of the door would perfectly frame the image of a whale. I love nature illustrations and nautical imagery (Moby Dick has long been at the top of my "favorite books" list), and I liked the idea of the design, a huge whale, being chopped into smaller panels, a bit like a comic, or the painting
Nila
by
Walton Ford
, one of my all time favorite artists. With that in mind, I drew out the design: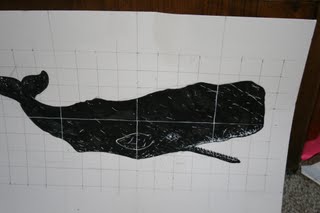 Then I spent a Saturday afternoon carving it from linoleum, expanding it by grid from a 14" x 7" drawing to eight 13" x 13" pieces (so the whole thing will be big, over 2' x 4'!):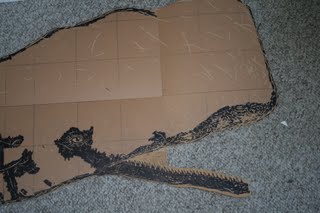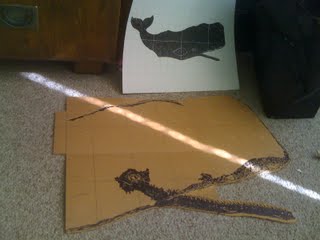 But I decided that the design wasn't quite "there" yet. The compliment to the piece was more inspired by color than anything else: I had been slightly obsessed with black-and-red print designs (I'm planning on using that palette on the next issue of
Friends
), and the black bulk of the whale conjured in my mind a red counterpoint, as if the colors themselves were having a battle of dominance. So I added in a
Giant Squid
to battle my
Sperm Whale
, drawing it in with red gouache. I'm really pleased with the result.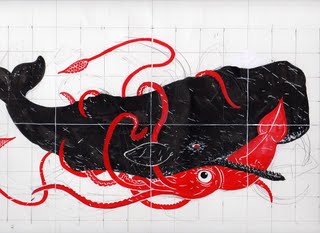 So now I've got to do some more carving, jigsaw piecing the squid in with my completed whale and mounting all the pieces onto plywood. I'll have another post up this week with pics of the carving process.