· A Family Affair
In Family Style Jamboree #2 (the semi-infamous
Chris Brennan
issue) I ran a fake letters column called "A Family Affair"... at the time I really couldn't imagine that we might get any real "fan mail", but lo and behold, all things come to those who wait: Every so often we receive a wonderful piece of correspondance from some far (or near) flung reader of our zines and comics, so I thought that I'd publish a few letters here every so often as a sort of "shout out" to those dedicated readers. It's really exciting to hear from people you've never even met who've chanced upon your stuff in some shop somewhere. Thank you so much for your support!
9:42am. June 28, 2005. A Tuesday. 94°F here.

Hello there,

I hope that this finds you well over yonder in California. I'm writing because I stumbled over your website, and I just had to order me one of your wonderful items. So I've enclosed some well-concealed cash in hopes of receiving "Friends #2" by F. Vigneault. Okay well I have some photography work to get to but I hope to hear from your lovely self realitively soon. Take care!

Truly,

Rachel
Grand Rapids, MI
We got this awesome little illustrated note the other day from Sasha Pearl in Portland, OR: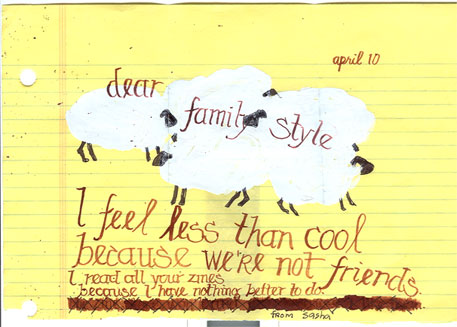 In case you can't read it, Sasha says
"Dear Family Style, I feel less than cool because we're not friends. I read all your zines because I have nothing better to do".
Sasha, you are tripping. Consider yourself a "Friend of the Family" from now on. We'll see you in Portland in August and October (for the
Zine Fest
&
Stumptown
, respectively)! Also, make your own zine with that spare time! Why not? I love the sheep.
Finally, a few excerpts from the letters of Rose Phung, who found us before Family Style was even off the ground:
18 December 2004

Dear François,

Your Copy of Two Stories caught my eye during a recent visit to Isotope on Noriega Street. I found your "simple stories of love" beautifully presented and thought provoking. Thanks for the wonderful read. I haven't clue how long ago this volume was released and whether the message on the last page regarding Friends #1 is still aplicable, Nonetheless, I have enclosed $3.00 for a copy of it, should it still be available.

Merci mille fois,
Rose

4 February 2005

Dear François,

I finally made it out to Isotope in the Sunset to pick up the first and second issues of "Family Style Jamboree" zines, as suggested in you letter. The last copy of the Beth issue- a lucky find, indeed- complete with a coffee splashed and stained back cover was hidden by multitudinous copies of the Chris Brennan issue. I have read them both... the zines are funny and interesting. It is as amusing to learn about people through their own personal voices as it is through the narratives of their friends. You must work very hard to pull all of this material together. I am curious- does the person featured get the final say in what gets stay and what gets to go? Both issues had a lot of what I felt to be depth, honesty, affection, and humor. I look forward to reading future publications...
Best of luck compleating your pieces for the [Alternative Press Expo]. It is good to know that Friends #1 will be pulling itself out from "publishing purgatory"... after having made whatever necessary atonemens to achive, perhaps, a more "purified" state? In any case, I do look forward to your new comic.
Thank you for your zine recomendations. They were great for laugh-out-loud moments on the morning and evening rides on MUNI.

Sincerely,

Rose Phung
San Francisco, CA

P.S. Have you seen any folks walking around sporting Chris Brennan masks? That would be quite a sight, wouldn't it?
Rose has really immaculate penmanship, by the way. She is super nice and sweet; we got to meet her at last year's APE and saw her there again this year... One of the definite highlights of APE was seeing so many familiar faces from last year!
So, everyone out there, please pull out a pen and paper sometime and write us a note... I love to get mail, advice, criticisms, or what have you. You can also write to any of the other Family Stylers and I'll be sure to forward them the letter.
Francois Vigneault
2802 21st Street
San Francisco, CA
94110