· Share the Pain
I woke up this morning to discover that in my sleep I had knocked over a half-full cup of tea (a remenant from a lovely breakfast in bed I made as part of Hannah's birthday festivities) onto not only the pencil drawing for my piece in
We're Rollin', They're Hatin'
, but also several pages of artwork from my colaboration with Jonas,
Root & Branch!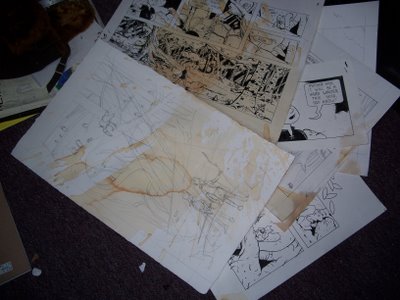 Oh, woe is me! I can start my new drawing again, and I guess I can digitally knock out the coffee stains on
Root & Branch
, but still. What a thing to wake up too. Ugh. I've got to be neater.