· Family Style Jamboree #8 out for APE!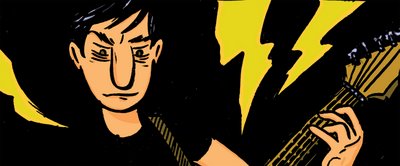 Sarah Gion has spearheaded a monumental effort to get Family Style Jamboree back on track to finish up this year (we've got 4 issues to go)! It looks like No. 8, the Gabe Ramos issue, is definitely going to be out for APE... we're still going to try and see if we can get the Nicole Issue out by then, too, ut it looks less likely. I am editing that issue (No. 9), so if you have any tales of Miss Bennett you'd like to share with the world at large, contact me.
(The above image is from my 1 page contribution to the Gabe issue).