· There (and Back Again)
Oregon!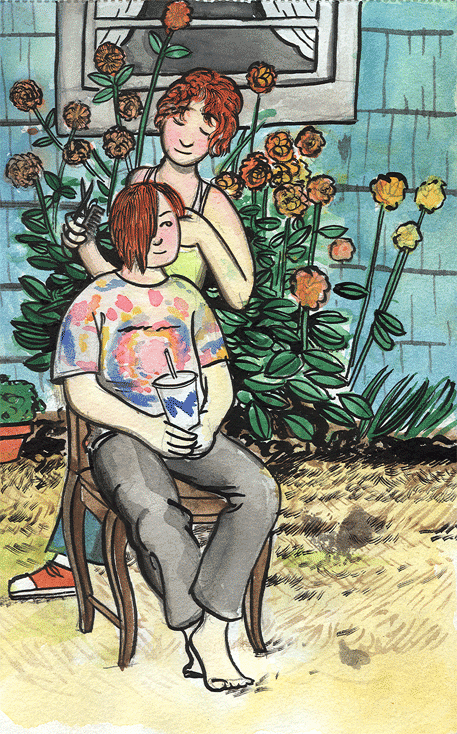 Hannah cutting her sister Rachel's hair in their parents' backyard in Salem
I'm back now from a very summer-y trip to Portland and various other Oregonian locales... I have been strongly considering moving up to Portland for some time now, primarily for financial reasons, so I sort of view my occasional visits up there as little visions of a possible future... Will I be happy there? Will Portland be happy to have
me?
The jury's still out...
I met Hannah's parents, which wasn't really as nerve-wracking as one might have expected... Lots of time out-of-doors, swimming, climbing, and otherwise enjoying nature's bounty... Very slow days at the Portland Zine Symposium, but got some excellent cartoonists inquiring about Elfworld Vol. 2... Hannah and I went out booty-dancing at a horrible/wonderful nightclub(with Chris + Yolanda of
Underwater Stories
and Tim + Stephanie of
Love Letter Press
) and absolutely were having a great time, but everyone else hated the place and we left and played video games, which wasn't so bad... Some melencholy, but more joyfulness... Lots of time for watercolors...
Okay, that's it for now. I'm back and back to business.